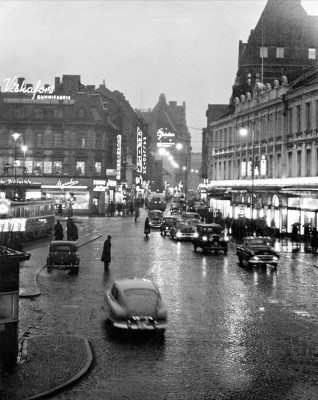 … Just listen to the music of the traffic in the city
Linger on the sidewalk where the neon signs are pretty
How can you lose?
The lights are much brighter there
You can forget all your troubles, forget all your cares
So go downtown,
things'll be great when you're downtown,
no finer place for sure, downtown 
everything's waiting for you …
Gustav Adolfs torg och Södergatan en regnig söndagskväll (det där med söndagskväll gissar jag bara) ; ) i början av 50-talet. Att låten är från 1964 och att bilden som togs av Erik Liljeroth kommer från Nordiska Museets bildarkiv är däremot ingen gissning.