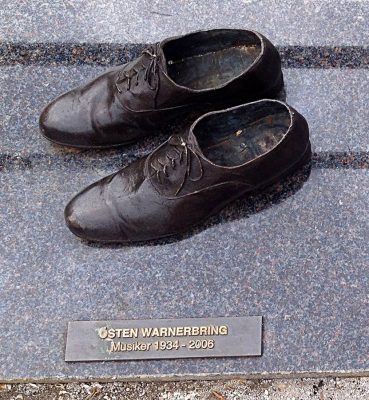 … minnesmärket i form av skor över kända och framgångsrika artister med Malmöanknytning som finns på Davidshallsbron utökas snart med tio par till. Anita Ekberg, Lasse Holmqvist, Jacques Werup, Ebba Lindqvist, Gaby Stenberg, Emy Storm, Ing-Britt Stiber, Olav Gerthel, K P Dal och Kristina Kamnert är på ingång …  Mer om Way to go hittar du här: Way to go och i Den Bildens bokgalleri hittar du böcker om tre av dessa artister: Anita Ekberg, Kal P Dal och Kristina Kamnert. Perfekta som julklappar och samtliga böcker utgivna av Kira förlag. Böcker om alla de nya artisterna kan jag inte erbjuda, men däremot kan jag bjuda på några länkar som berättar lite mer om övriga artister. 
Första gången jag såg Lasse på TV var jag inte gammal och jag tror att programmet hette På Luffen med Lasse Holmqvist.
TV till varje pris – en film om Lasse Holmqvist
Jaqcues Werup! – Föll pladask redan när jag läste Hemstaden.
Om Ebba Lindqvist berättar Sydsvenskans Martin Andersson:
Första filmen med kvinnlig regissör spelades in i Malmö.
Så Gaby Stenberg som var med och invigde Malmö Stadsteater 1944 och många minns säkert hennes medverkan på samma teater i La Cage Aux Folles där hon spelade mot Jan Malmsjö. Så här skrev Sydsvenskans Mikael Anjou om Gaby i samband med hennes bortgång: Gaby Stenberg har tystnat.
Ingen kan väl glömma  Emy Storm, Kvarteret Korpens och Emils mamma!?
Så Ing-Britt Stiber, en av Malmös praktfulla Czardasfurstinnor …
Jag säger Vårvisa och då vet alla att jag nu syftar på Olav Gerthel som det finns så mycket mer att berätta om …